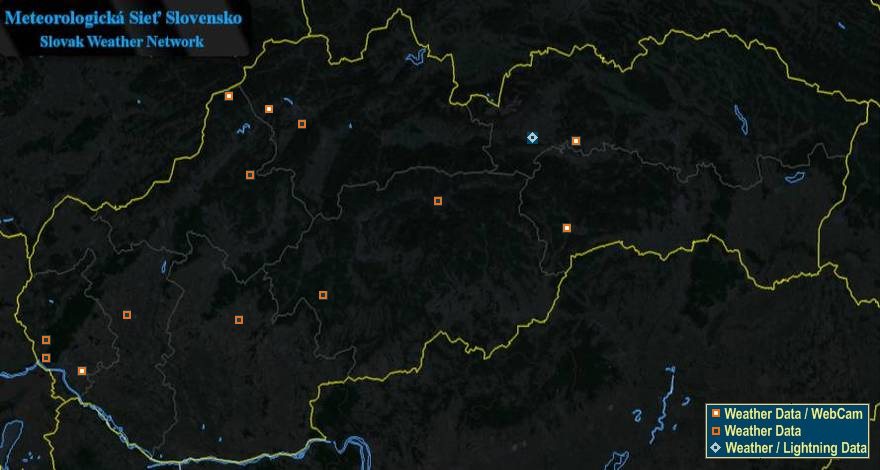 Temperature Dew Point Humidity Wind Direction and Speed/Gust Rain Today Pressure and Trend Current Condition Name of the town
°C DP °C %
m/s mm Banská Štiavnica
°C DP °C %
m/s mm Brezno
Offline Offline Offline Offline Offline Offline Offline Bratislava - Dúbravka
Offline Offline Offline Offline Offline Offline Offline Most pri Bratislave
Offline Offline Offline Offline Offline Offline Offline Stupava
°C DP °C %
m/s mm Rudná
°C DP °C %
m/s mm Beladice
°C DP °C %
m/s mm Levoča
0 °C DP 0 °C %
0.0 m/s 0.0 mm 0.0 hPa Poprad
0 °C DP 0 °C URL %

N 0.0 m/s 0.0 mm 0.0 hPa

Horná Maríková - Ráztoka
Offline Offline Offline Offline Offline Offline Offline Zliechov
Offline Offline Offline Offline Offline Offline Offline Trnava
Offline Offline Offline Offline Offline Offline Offline Bytča
0 °C DP 0 °C here. %

N 0.0 m/s 0.0 mm 0.0 hPa

Rosina
Conditions data shown was collected
from Thu, 07-Dec-2023 20:00:06 CET to Thu, 07-Dec-2023 20:04:49 CET
The Slovakia Weather Network is an affiliation of personal weather Websites located in Slovakia. Pocasie-Bytca.sk is proud to be a member of the Slovakia Weather Network.
Please take a moment to visit other stations on the network by clicking on the map above or clicking on the links below. The stations are displaying the weather conditions: Temperature, dew point, humidity, wind direction and speed/gust speed, today's rain, barometric pressure and trend, current conditions and the name of the city where the weather station is located.
Note: Click on the table column title to change the order of that column's vaues.

Region

Station
Current
Cond.
Temp.
°C
Dew Point
°C
Humid
%
Wind
m/s
Gust
m/s
Rain
mm
Pressure
hPa
Trend
Last
Update
Banská Bystrica
Banská Štiavnica
20:00:06
Banská Bystrica
Brezno
20:04:49
Košice
Rudná
20:04:49
Nitra
Beladice
20:04:49
Prešov
Levoča
20:04:40
Prešov
Poprad
0
0
0.0
0.0
20:04:49
Trencín
Horná Maríková - Ráztoka
0
0
URL
N 0.0
0.0
0.0

| | |
| --- | --- |
| 0.0 | |

Steady
20:04:49
Žilina
Rosina
0
0
here.
N 0.0
0.0
0.0

| | |
| --- | --- |
| 0.0 | |

Steady
20:04:49